lulo menu
Welcome to Lulo's Bar & Grill in Glenferrie Road , Hawthorn. We specialise in tapas share plates, wine & cocktails.
Our A La Carte menu offers a selection of plates that are meant for sharing. 
Lead in the kitchen by renowned Chef Matthew Waldron, each dish is a refined creation celebrating the flavours of South America.
—
Crispy Skin Pork Belly

w mushroom ponzu, guava & hibiscus
—
Roasted Arlesbury Duck 
W ROAST BEETROOT & A RUM GLAZES 
—
Venezuelan Chocolate Ganache 
W DULCHE DE LECHE &
CACAO-ORANGE SOIL
—
Colombian Churros 
FILLED W QUINCE JAM & DULCHE DE LECHE
APPETISERS
Charcuteria – your choice of sliced to order meats
2 meats 25
3 meats 35
jamon serano, 7 hermanos, 24 months reserve
norcia de palma, mild salami
bresola la boqueria, dry-aged beef
la boqueria morcon ahumado picante, spicy salami
fuet de anis, miild salami
spicy spanish chorizo
Cheese board – house selection of 3 cheeses 20g per cheese 25
Freshly shucked Appelation oysters w chilli oil, fingerlime & pickled ginger gf 4.5 ea
24 half doz –  40 doz
Sourdough starter – made in house, served w olive oil & sea salt
3.5 half loaf – 6 full loaf
Potato crisps w avocado salsa gf 12
Spanish mixed olives w cancha & pickles gf 10
ENTREE |  CEVICHES
Petuna Ocean Trout cured w pink grapefruit & served w Peruvian salt,
avocado, chilli & radish gf 20
Avocado & cauliflower w fingerlime, coriander,
aji & caramelised sweet potato gf|v|vgn 18
Tiraditos Nikkei w Yellowfin Tuna, ginger, chilli & garlic,
wakame, & pressed cucumber gf 24
ENTREE |  PLATES TO SHARE
Wagyu beef Tataki w black seasame aioli, jalapeno & fuji apple gf 20
Colombian empanadas of braised beef & potato w aji 2pc gf 14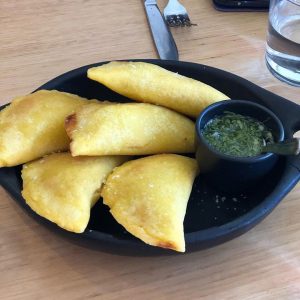 Mushroom croquettes w Manchego cheese & panca aioli 4 pc 16
WA wild Octopus chargrilled w mojo, grapefruit & crispy tapioca gf 28
Duck & pork chorizo w spiced pumpkin, coriander salsa verde &onion creole gf 18
MAINS
Wagyu Picanha char-grilled Wagyu 6+ served w smoked eggplant
& chimmi churri 300g gf 45
Aji de Gallina roast Peruvian chicken w peanut & aji amarillo sauce gf 32
Lamb shoulder 8 hour slow cooked Flinders Island saltgrass lamb
served w wilted greens gf 38
Seafood cazuella Caribbean style bisque w prawns, fish, mussels & coconut gf 42
Roasted Arlesbury Duck w roast beetroot & a rum glaze gf 48
Confit pumpkin w coconut oil, pumpkin seeds, smoked tomato,
broad beans & tapioca crisps gf|v|vgn* 29
Crispy Skin Pork Belly w mushroom ponzu, guava & hibiscus 38
VEGETABLES & SIDES
Green Tomato salad w oxaca cheese, palm heart, & coriander
vinagrette, topped w dried olives gf|v|vgn* 14
Char-grilled Broccoli w walnut aji, lemon zest & Manchego cheese
gf|v|vgn* 12
Potatas Bravas, baby potatoes w spicy tomato salsa & garlic aioli
gf|v|vgn* 14
DESSERTS
Parfait of Avocado & brazil nut, w coconut foam & pineapple gel gf 14
Venezuelan Chocolate Ganache w dulche de leche & cacao-orange soil gf|v|vgn 15
Colombian Churros filled w quince jam & dulche de leche 4 pc 16
Custard Apple Meringue w lulo gel, roasted banana ice cream & pineapple-passionfruit aji gf 14
House churned Latin Ice Creams 3 scoops 14
Cheese board – 20g per serve 1 cheese 10
3 cheeses 25
5 cheeses 40
Let out chef's guide you on a journey through the flavours of South
America w our regional tasting menu
– for the whole table –
Regional Menu
4 courses
65 pp
Regional Menu w oysters
5 courses
75 pp
Subscribe to our newslletter
Be the first to know about our latest promotions, new menu and upcoming events.
Store Hours
Tuesday 4:30 – 11pm
Wednesday 4:30 – 11pm
Thursday 4:30 – 11pm
Friday 4:30 – 12am
Saturday 4:30 – 12am
Sunday Closed
Monday Closed
Serving the best Tapas, Wine, Cocktails and Sangria in Hawthorn, Hawthorn East, Camberwell, Kooyong, Toorak, Burnley, Yarra, Richmond, Kew, Deepdene, Balwyn, Malvern, Kew East, Fitzroy and Clifton Hill.